Celebrate with Vudoo
International Women's Day 2021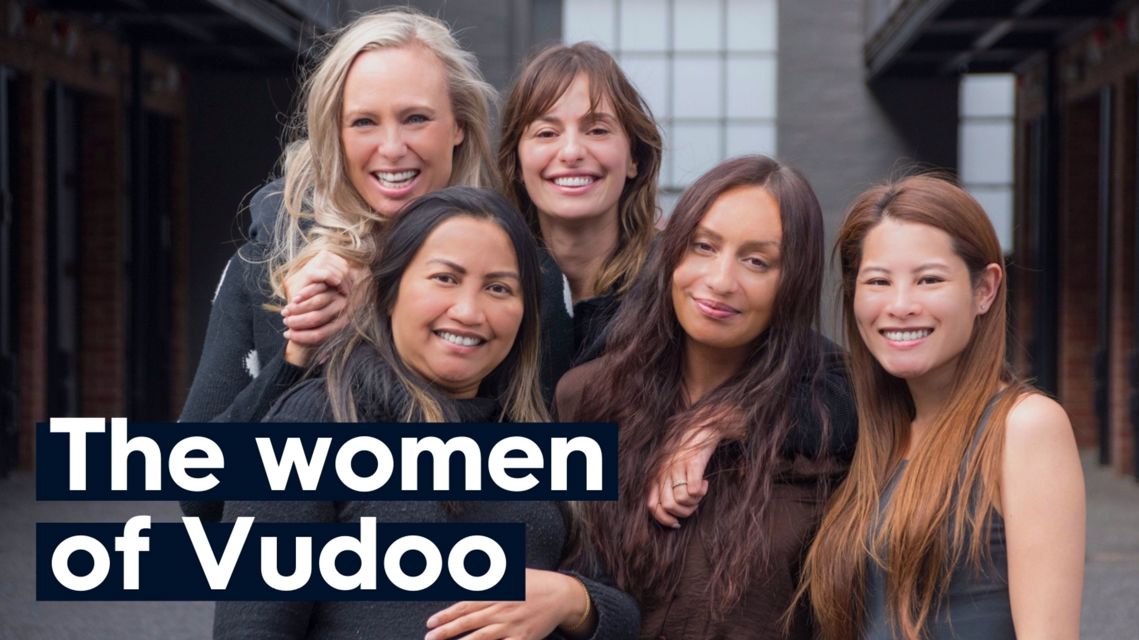 Introducing the women of Vudoo! This International Women's Day, we want to recognize and celebrate the critical role of women in tech.
Women are increasingly getting involved in the technology industry. Yet, according to the stats, they are still shockingly underrepresented in this crucial field. According to a PwC study from the UK, only 5% of leadership positions in the technology industry are held by women and only 23% of people working in technology overall are women.
To mark International Women's Day, the women of Vudoo share their experience working in one of Australia's most innovative tech start-ups, and discuss what the tech world can do to help women thrive in a traditionally male-dominated industry.
What do you think is the best part of being a woman in a tech start-up?
Trisha Zileski: "One of the most important aspects for me is being able to challenge the norm that exists in the tech space. Women bring unique ideas and viewpoints to the table. By having a broader presence, we can encourage young females who are interested in pursuing a career in tech to follow their dreams."
Keira Lewis: "I have always worked in male-dominated industries; media, telecommunications, and now tech. I never really focused on Male vs Female in any of the roles I have worked in, however, I have enjoyed the opportunity to bring a fresh perspective towards projects and situations. It is very important to us here at Vudoo to ensure we offer an equal experience for everyone and give everyone the opportunity to make our own impact on the company."
Did you always know that you wanted to work in the tech space?
Aleksandra Harsic: "While I always had a side interest in tech, I had never seriously considered it as a career. I had always thought of a career in tech as working in very dry, mundane day-to-day roles. Yet when I accidentally fell into working in the industry, I couldn't believe how far that was from the truth. Now, I think I probably have the most interesting and exciting job out of anyone that I know."
Lili Simatupang: "When I was a student, I enjoyed subjects that involved technology and creativity such as web development and animation. However, I didn't really enjoy the 'coding' part of it. I quickly started to realize that I wanted to work in the tech space in some capacity. Looking back, I have definitely enjoyed my past roles in the tech space more than non-tech roles."
What challenges have you faced working in a tech environment?
Sandy Ho: "From my past experience working in the Insurtech space, it was rare to see a fellow woman while attending a meeting or a conference. There were often times where I found myself to be not just the only female in the room, but also the youngest, which can be overwhelming. It's hard not feeling like an outsider to the 'boys' club' and it took time for me to build up the courage to overcome that inhibition."
Keira Lewis: "I didn't have experience in the tech industry previously, so my biggest challenge is my knowledge and confidence about technology. The tech industry can be daunting and there is always so much to learn. I find that I'm one of the lucky ones; I'm currently surrounded by such an amazing team who are always not only challenging me but helping me learn to be curious about all areas of the business and I cannot thank them enough for helping me navigate this exciting industry. Knowing what I bring, my knowledge, and being confident with myself is so important, however, this is something I still need to remind myself of this from time to time."
What do you think companies could be doing more of to encourage more women to consider a career in tech?
Aleksandra Harsic: "While I think it's great for tech companies to try and attract women to work in tech, I really think that the majority of the push needs to come in those crucial early years when young people are considering their future careers. There needs to be a huge push throughout primary school and higher-education to let young women know that technology is a potential industry for them, and one that can offer great rewards."
Are there any female leaders you find inspiring?
Lili Simatupang: "Definitely; I follow inspiring female leaders on social media, such as Jacinda Ardern and Sri Mulyani Indrawati (the Minister of Finance in Indonesia). I also get inspired by female mentors and leaders, especially from the tech landscape."
What advice would you give to other women considering a career in tech?
Sandy Ho: "My advice is to just go for it. Many people think that to get into the industry you need to be a 'techie' or know some form of programming or coding. That's definitely not the case. There are so many different skills and roles needed within the industry, so don't let that get in the way of you trying!"
Trisha Zileski: "Be adaptable and, above all, be determined to succeed. I had previously worked in retail and hospitality, but I applied my previous knowledge and skills to my current role. Coming from a different industry can be advantageous in offering a fresh perspective. The options really are limitless."