Vudoo unveils world-first in-video shoppable video technology
Sep 12, 2022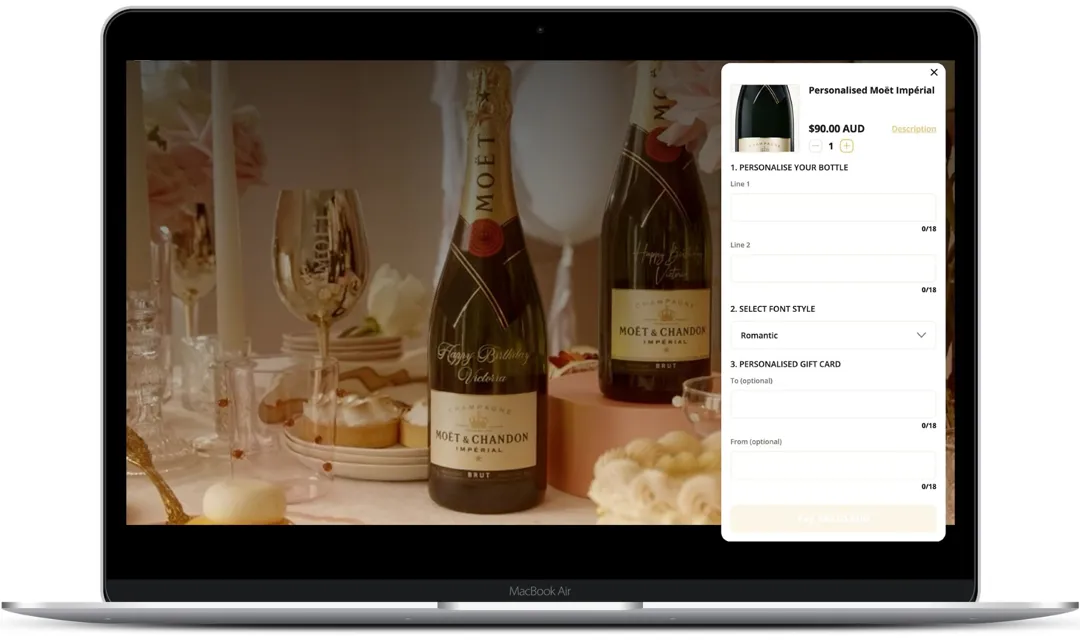 The future of eCommerce technology has arrived. Vudoo partnered with News Corp Australia to launch a world-first, in-video shoppable feature. In collaboration with Vogue Australia, Moët & Chandon recently launched their gifting campaign. It's the first interactive video campaign to make use of Vudoo's new commerce technology.
Featuring Australian model Victoria Lee, the campaign features everything you need to create the 'chicest birthday celebration'. Customers have the ability to add-to-cart personalized bottles of Moët & Chandon champagne within the video content, make their purchases and then seamlessly continue watching the video. This new technology is set to revolutionize how retailers view eCommerce and looks to significantly shorten the sales cycle.
Shoppable video is Vudoo's latest innovation, and is further proof of the power of interactive video. Interactive video gives businesses and creators the chance to embed clickable actions into their video content, turning passive viewers into active users. Vudoo's analytics capture deeper and more insightful audience metrics than traditional video, giving businesses the opportunity to further optimize marketing campaigns using the data points that Vudoo captures.
Moët Hennessy Australia and New Zealand marketing and consumer engagement director, Scott Bowie was full of praise for the campaign when speaking to CMO, revealing, "We can see real-time what our consumers are engaging with and their progression along the funnel, providing us with a unique view of the full journey from top to bottom funnel.
"Engagement from our consumers has been excellent, and we're seeing purchases across our range nationwide. Overall engagement within the interactive video is currently sitting at three times the industry benchmark, showing how strong the content that was captured in partnership with Vogue is performing." CMO also noted that "the basket size of those taking up the video-based offers was higher than the average online at the moment: $140 to $90."

Speaking about the new technology, Vudoo's CEO/Founder Nick Morgan says, "The possibilities this game changing product is creating are unmatched. Publishers can now empower brands to convert at the very top of the funnel, whilst extending their cart to the customer rather than being a destination. We are very excited to partner with News Corp Australia regionally, but we are also engaged in conversations with News Corp at a global level."
If you would like to learn more about how your business can make the most of in-video shoppable technology, get in touch with Vudoo's team today!